Borderlands Weapon Mod
The Borderlands Weapon Mod for Minecraft 1.6.4 is a perfect mod for anyone that is an avid fan of the Borderlands franchise. This mod adds a variety of randomly spawned weapons in to your Minecraft game, including pistols, shotguns, grenades, assault machine guns and so much more! I strongly recommend that you download this mod as it provides a fantastic playing experience that you are able to enjoy for a very long time!
Borderlands Weapon Mod for Minecraft 1.6.4 Main Features
One of the main features includes the ability for mobs to randomly drop weapons, with this function implemented, it allows you to jump right into the carnage straight away!
Randomly generated guns will spawn into the game, variety of colors, recoils, styles and even manufacturers all altar each guns experience!
This system also applies to shields and grenade modifications! This random system guarantees replay-ability and a unique experience every time!
Borderlands Weapon Mod for Minecraft 1.6.4 Pros and Cons
POSITIVES: The random spawn system that is used throughout this mod enables each player to have his/her own specific and unique experience each time you play it! There is a variety of weapons and shields available, as well as Marauders and Physcos – which are newly updated mobs! This mod is currently fully updated to Minecraft 1.5.2, so what are you waiting for?!
NEGATIVES: This mod does not feature a wide variety of explosive weapons such as mines, RPGS and rockets! However the developer has noted that this may be a future addition!
ECHO Communicator: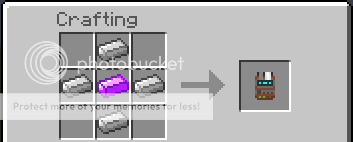 To use, place in leg armor slot.
Eridium Bar:
Borderlands Weapon Mod version 0.0.8e for Minecraft 1.6.4 Changelogs
Latest updates for this mod include:  New Ammunition Vending Machine. ECHO communicator compass now works accurately in all situations. Sniper Rifles are now only 100% when zoomed. New option in properties to allow players to pick up ammo even when full. Also a small update to fix a server bug along with other small fixes.
How to Install Borderlands Weapon Mod for Minecraft 1.6.4
First of all, this mod requires the download and installation of the latest version of

MINECRAFT FORGE! 

Next, download the Borderlands Weapon Mod for Minecraft 1.6.4 and drag and drop the .zip folder in to the 'mods' folder of your Minecraft directory!

Run Minecraft and enjoy the game!