Gravitation Suite Mod
Yet another IC2 addon from me.  This one adds in different sets of armour and tools.  The mod is named after its main armour set, the Gravitation set.  Each piece does something different and amazing all at the same time.  The body armour allows you to fly like you're in creative mode for up to 20 minutes. has the same specs as quantum armour, has 10,000,000 EU of storage, you can use it as storage (you can charge and discharge it at an MFE or MFSU), supplies a charge to your tools, and if you forget whether you have fly mode on you can just look at the visual indicator in the GUI.  To access all of the items in this mod you will need the Advanced Solar Panels mod, which can be found here.  The Vajra is the ultimate tool.  It combines the function of every single tool, and can break every block in the game aside bedrock with one hit.  That power is pretty expensive, though.  The recipes for the components and the Vajra itself:
Vajra Core: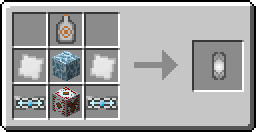 Vajra:
(The Vajra looks so cool though, doesn't it?  Well worth it just for the looks. More recipe)
I'd suggest making a GraviTool as quickly as possible (recipe not available).  It'll help reduce that inventory clutter that having three tools can cause.
GraviSuite Mod for Minecraft 1.7.10 and 1.7.2 Main Features
Adds in the Gravitation Suite (it's a suit.)
Adds in three tools
New solar helmet if you have the Advanced Solar Panels mod.
Upgraded lappack.
The ultimate tool, Vajra, which breaks anything in one hit.
GraviSuite Mod for Minecraft 1.7.10 and 1.7.2 Pros and Cons
Pros:
Adds in new tools which really help
Adds in armour which fuels tools, lets you fly, and much more
Upgraded diamond drill and chainsaw
Upgraded lappack
Cons:
Quite expensive, both in base expense and in energy.  Solar panels are always nice, though.
How to Install GraviSuite Mod for Minecraft 1.7.10 and 1.7.2
Install IC2
Optional: Install the Advanced Solar Panels mod (this mod uses solar panels from there to make the solar helmet)
Download the GraviSuite Mod for Minecraft 1.7.10 and 1.7.2
Drag the GraviSuite Mod's archive file into your Mods folder
Run Minecraft and enjoy.