Trio Gems Mod
If you are looking for a simple and yet unique mod to add to your Minecraft collection then I recommend that you install the Trio Gems Mod for Minecraft 1.6.4 This Minecraft mod has been around for a long time but due to lack of activity and updates from the original developer, 'SCMowns' has taken up the responsibility to make it from scratch – and I think he has done a fantastic job! This modification is fairly simple but is very useful and different!
Trio Gems Mod for Minecraft 1.6.4 Main Features
You can now mine and collect naturally spawning Sapphire and create the vanilla tool sets with this ore!
You can also do the same with Ruby and Emerald, all of which can be found deep down in the Minecraft world and cave systems!
However the main feature of this modification is the Trio Gem! Which can be created from 1x Ruby, 1x Emerald and 1x Sapphire to create an ore with double the durability and speed!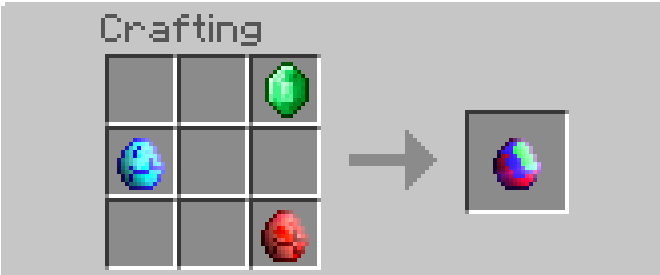 Trio Gems Mod for Minecraft 1.6.4 Pros and Cons
POSITIVES: I personally think that this mod is a great addition to a collection. The trio gem is something different from what we usually see in ore mods, and its great strength and durability makes it a better choice ore than diamond! This mod is fully updated to Minecraft 1.6.2 and can be installed on client and server!
NEGATIVES: As it stands, this modification is quite bare, but I'm sure this will be changed in future updates!
How to Install Trio Gems Mod for Minecraft 1.6.4
First of all, this mod requires you to download and install the latest version of

MINECRAFT FORGE.

Next, download the Trio Gems Mod for Minecraft 1.6.4 and drag and drop the .zip files into the 'mods' folder of your Minecraft directory.

Delete the META-INF file from your folders and open Minecraft!