Wither Bow Mod
The wither boss and wither skulls that have been recently implemented into the game is a feature that is significantly useless apart from one or two reasons. The Wither features were implemented into the game as a Halloween theme. Even though the feature was and still is quite a cool and entertaining experience, but also leaves some doors open for modders to developer and edit the vanilla feature further. Although there are some mods that implement or re-implement the Wither feature with new aspects to improve it initially; there are always smaller mods that implement only one entertaining feature that proves to be a wonderful and powerful product.
The Wither Bow mod for Minecraft 1.7.2 and 1.6.4, developed by DeStilleGast introduces a singular feature that allows the player to craft and wield a new type of weapon that can only be made from following the Wither features. The mod itself implements a new weapon, a bow, that is extremely powerful and acts just as the witherboss does. Instead of firing arrows, it will fire the same heads that are fired from the witherboss when in aggression.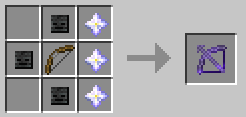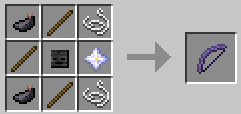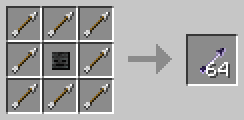 The crafting recipes are simply, yet still relatively hard to obtain the materials needed to complete them. I think that is fair enough as it should be difficult to obtain a weapon of such capacity. The bow itself does an extreme amount of damage and also has a blast radius wherever the arrow that is fired hits the ground. The bow doesn't fire ordinary arrows as its ammunition. It is required that the player follow a separate crafting recipe to create an arrow that can only be used by the Wither Bow.
Wither Bow Mod for Minecraft 1.7.2 and 1.6.4 Changelogs
First release.
second release.
How to install the Wither Bow Mod for Minecraft 1.7.2 and 1.6.4
Download the Wither Bow mod zip file for Minecraft 1.7.2 and 1.6.4
Browse to %appdata%/roaming/.minecraft and open the "mods" folder, if this folder does not exist; create it instead.
Drag the entire downloaded mod zip file into the "mods" folder. (do not unzip)
Finished.